IOS 17 versus iOS 16
Discover the exciting enhancements in iOS 17, from Contact Posters to NameDrop sharing and the innovative Live Voicemail feature. Explore the revamped iMessages, exclusive Journal app, and more, making this upgrade a significant step from iOS 16.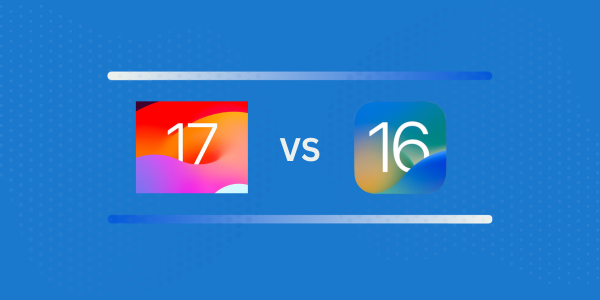 Introduction
The iOS 17 is available to install on iPhones as of September 2023. Here's a quick look at how iOS 17 compares to iOS 16 and what you can expect when you upgrade. These improvements are sure to blow your socks off!
On the surface, it might not seem like there are many major new features in iOS 17, but looks can be deceiving. There are lots of little changes all throughout the new update that make iOS easier, faster, and more pleasant.
1. Model Compatibility
The first thing that you need to know is which iPhone models are eligible for an IOS 17 upgrade. Apple has outdone themselves this time by making the update available to every model from iPhone SE (2nd Gen) - iPhone 15 Plus. Twenty-Three models!
2. Contact Posters
iOS 16 introduced the new Lock Screen layout, which users could customize to make the iPhone feel more personal. Now, a similar approach is coming to contacts in iOS 17. The new Contact Posters feature allows you to create personalized images that will appear on the iPhone of people you call. Much like the Lock Screen, you can add text, change the font and color, then place it in the foreground or background, making it blend in seamlessly with the image.
3. NameDrop
iOS 15 saw the introduction of SharePlay, which was then incorporated into Messages with iOS 16. This time around, iOS 17 takes this up a notch by making it a simple case of holding two iPhones (or an iPhone and Apple Watch) near each other to share contacts, photos, and videos or synchronize the playing of a music track. The best part is the title given to sharing contacts – NameDrop.
4. iMessages
iOS 16 added a variety of new features to Messages, including the ability to edit sent messages or delete them entirely before the recipient could read them. You can also mark a conversation thread as unread in order to remind you to return to it later.
In iOS 17, Apple beefs up the app even more with the addition of new search filters that allow you to enter multiple search terms so you can track down that elusive message quickly and easily. Catch-Up is great if you find you regularly join group conversations mid-way through, as it instantly takes you back up the thread to the first message you missed. If you want to reply directly in-line to a message, then swiping on it now triggers the reply option. Taking its cue from Live Voicemail, you'll also have the ability for the app to transcribe and display any voice messages you may have received.
5. Journal
One iOS 17 exclusive that we're looking forward to is the new Journal app. This, as the name suggests, is a place where you can record your thoughts on the device you always have in your pocket. It's not just a notepad though, as the app uses machine learning to suggest potential writing prompts from your location, activities, or playlists. For example, if you've been on a trip, then Journal will collate your route, what you listened to, and the photos you took, so you can include them all in an entry.
6. Live Voicemail
One very interesting update in iOS 17 is the introduction of Live Voicemail. This clever feature displays a live text transcription of a message as it's being left on your iPhone. So, if you're in a meeting or out and about or just want to know if the call that's coming in is important or not, just wait and you can see what the caller has to say. Then, if you want, you can pick it up in mid-voicemail.
iOS 17 In-conclusion
There's plenty of good stuff coming in iOS 17, which makes it seem such a good idea to upgrade. Obviously, it's free, but with the addition of the new Live Voicemail, Check-In, and easier sharing, not to mention the entirely new Journal app, we'd say this should be a definite step up from iOS 16.

Published : 20-Nov-2023 01:46 PM